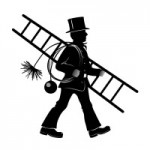 The weather is colder and you may be thinking about firing up the wood stove or stoking up the fireplace. Before you do that you want to make sure your chimney is in good working order. The Chimney Safety Institute of America (CSIA) recommends hiring a certified, professional chimney sweep to inspect your chimney.
The CSIA has a list of questions you should ask your chimney sweep before hiring them:
1. How long has the chimney sweeping company been in business? 2. Does the company offer current references? 3. Does the company have unresolved complaints filed within the city or state consumer protection agency or Better Business Bureau? 4. Does the company or individual carry a valid business liability insurance policy to protect your home and furnishings against accidents? 5. Does the company ensure that a CSIA Certified Chimney Sweep will be on the job site?
It is important to get your chimney professionally inspected annually. The proper care and maintenance of a chimney can help protect people from unnecessary fires and carbon monoxide poisonings.