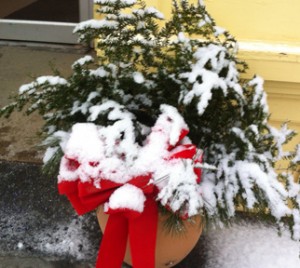 It is beginning to look a lot like Christmas everywhere you go. Shelburne Falls received about an inch of lake effect show today prompting us to clear off the walks in front of the office.
According to WWLP weather - LOOK OUT - Saturday afternoon through Sunday morning the Pioneer Valley will receive up to 12 inches.
SO, do you think we will have a White Holiday Season? Looking that way to me!
As we look at the season of snow, cold weather and possible downed power lines we need to check and maintain our Disaster Kits.
If you have not built a Disaster Kit, this is a great time of year to build one. FEMA has a great list to build your kit.