It's time to buy a home! That is right you heard it here, no more doom and gloom for the real estate market. The time has come to go out and buy some real estate. The only thing holding buyers back has been consumer emotion but a look at the facts should help buyer feel more confident in opening up their wallets for a great opportunity in today's housing market.
JP Morgan's Market Insights report has outlined why people looking to buy a home have never been in a better position. Here are just three important points from the JP Morgan report.
The Price is Right
One measure the report looked at was the ratio of personal income to home prices.
"Since 1966, the median price of an existing single family home in the U.S. has varied between 150% and 251% of personal income per household. However, roughly three-quarters of the time it has been in a relatively narrow band between 185% and 230%. In September 2011, the ratio was just 153%, implying that to get back to an average price to income ratio, home prices would have to rise by about 27%."
Mortgage Rates are Right
Mortgage interest rates are at historic lows as compared to personal income. The report notes, "During the week of October 7, Freddie Mac reported that mortgage rates had fallen to an average annual level of 3.94%. Assuming the use of a fixed rate mortgage with 20% down, this would make the median mortgage payment on a single family existing home just 6.9% of per household personal income, compared with an average of 14.4% since 1966."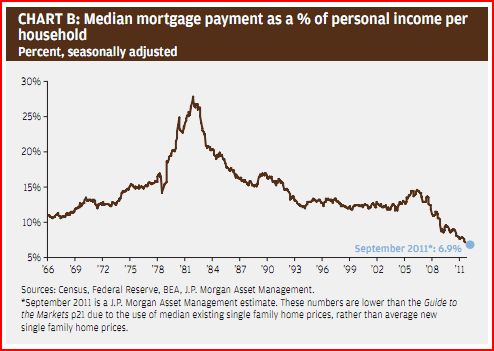 What this means is that it is a buyers perfect storm. Buyers who buy now will likely reap a long term financial gain by buying a home at a lower than average cost and financing it for a lower than average cost. It is a win-win situation.
Home Ownership Beats Renting
The report goes on to look at the cost of renting versus owning. JP Morgan predicts that by the "third quarter of this year, we estimate that the implied median mortgage payment had fallen to just 78% of the median asking rent. In other words, at current mortgage rates, home prices would have to rise by 35% just to get back to their average relationship to rents."
Home buying is now more affordable than it has been in decades. Home prices are at all time lows, mortgage rates are at rock bottom and income levels remain steady. Despite what you may hear on the nightly news home ownership has never been more affordable.