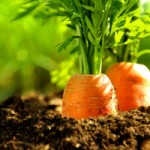 Who doesn't love a vegetable garden? There is nothing better than fresh green beans or vine-ripened tomatoes. Getting started with your very own vegetable garden is easier than you think.
It all starts with choosing the right crops and space for your garden.
1. Choose your vegetables. Only grow vegetables you enjoy eating. Don't waste your efforts on things you will not eat or give away. There are some vegetable which are extremely well suited for eating fresh. Most people agree that tomatoes, squash, beans and peas are especially good from the garden.
2. Pick your space. You will want to pick an area that is flat, has easy access and gets full sun
3. Prepare your space. Preparing the soil is one of the most important parts of the garden. Make sure the soil is free from rocks and weeds. Make sure to turn the soil. You may also want to add organic material such as compost. It is best to consult the garden center for what they recommend.
4. Plant accordingly. Figure out how much growing space you have and plant accordingly. Lettuce, for example, can be grown in a solid mat, but tomatoes need to be spaced about 2 feet (60 cm) apart. Give pumpkins at least 4 feet (120 cm) of growing room. Growing requirements are provided on seed packets, in catalogs, and on nursery tags, as well as in books on growing vegetables.
5. Schedule your plantings. There are two main growing seasons which vary by region: cool (spring and fall) and warm (summer). Vegetables that typically do well in the cool-season are lettuce, peas, potatoes, and beets. Warm-season crops include beans, corn, cucumbers, eggplant, melons, peppers, pumpkins, squash and tomatoes. Consult your garden center for the time of year and what is best in your area.
6. Enjoy the fruits or veggies of your labor.